If you're losing track, you're not alone. I knew promoting all these summer titles would be a challenge. Today's is another snippet from my August novella, The Secret In Room 823, available in the UK as a lone title and up for preorder here in N.America as part of The Chatsfield Boxed Set, Vol 2.
Basically, the #SampleSundays are my Presents titles, the #TeaserTuesdays are from my Erotic Romance Collection and these #Thursday13s are a bit more random. I did the opening 13 lines last week, which was probably premature, but I got lazy. It happens. And thus, I feel committed to continue with the next 13. This impulse may or may not last. I'm learning that I'm extremely rigid and organized except when I don't feel like it. Then I do something else. Yes, you should pity my husband and probably most of my previous employers.
Before I jump in with the magical 13, I'll offer up the links to the latest excerpts in the other categories, in case you haven't seen them yet:
Click this link if you want to read last week's #Thursday13 from The Secret In Room 823. And click this link if you want to know more about
Mills & Boon's The Chatsfield series.
Also, if you like entering contests for free books, be sure to scroll down after the excerpt. There are quite a few opportunities listed there. I'll just mention here that the Goodreads contest for The Ultimate Seduction closes this Friday and you can enter today (Jun 26th) for a copy of An Heir To Bind Them by visiting my interview at Minxes Of Romance.
Whew! Are we ready yet? Okay, here goes:
~ * ~
Therefore, she found herself fighting the beaming grin that wanted to break across her face and offering him her cool Lady Hamilton-Smythe barely-there smile.
That was, after all, the bitch who was meant to be exorcised tonight.
But appearing aloof was hard when his mouth pulled into a sneer of dismay at her white wig with its prism of color streaked over her left eyebrow.
Call me Hayes, he'd said at their first meeting. She didn't know if that was because of the deceptive color of his eyes, shifting between brown and green with his level of arousal, or whether it was his real name, first or last. She only knew that she'd looked into those clear, steady eyes at their initial meeting and trusted, blindly and probably very stupidly, but here she was. Again.
He was only wearing his jeans, as if he'd thrown off his shirt in a fit of overheating. Another hint that she affected him as strongly as he affected her, but she squelched the yearning for an emotional connection and focused on the physical. Tanned skin stretched taut over gorgeous shoulders, hard pecs and washboard abs as he hooked one disgusted hand at his waist, the other continuing to hold the door open.
Behind his fly, he was hard, making her pulse lunge into a gallop.
'No,' he said flatly, demanding that she lift her gaze to his uncompromising stare. She took in the whole of his face with his stubbled jaw set in displeasure, his black hair getting long again and messy, as if he'd run his fingers through it.
~ * ~
This short story gets pretty hot and if you like that sort of thing, check out that #TeaserTuesday from Mastering Her Role. Purchase of the erotic collection counts as an entry in Dani's Masked Desires Contest too. You could win one of these awesome masks or an autographed copy of my August Harlequin Presents The Ultimate Seduction.
Read the rules for the Dani Collins Masked Desires Contest (closes August 17th, 2014). Enter here:
Dani's Masked Desires Rafflecopter Entry Form
You can also enter for a chance to win one of three signed copies of The Ultimate Seduction through this Goodreads Giveaway. It closes this Friday, June 27th.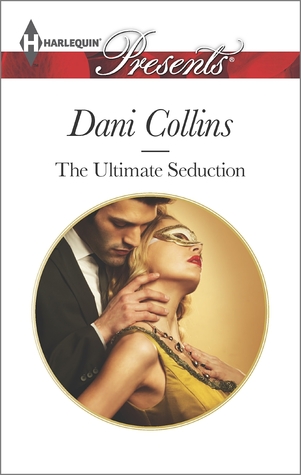 Enter to win
You'll always be included in a draw for a signed copy of my new release if you join my newsletter. I draw from my subscriber list right before the book comes out.
I'm also giving away two books in a Huge Giveaway over at Lisa Perry's Blog. It closes July 11th. Pop over to win, among all the other great titles, a copy of An Heir To Bind Them and
The Ultimate Seduction, signed of course.
I'll have even more chances to win The Ultimate Seduction when I start my blog tour mid-July, so keep checking back for those opportunities.
Meanwhile, The Secret In Room 823 is available for preorder in North America as part of The Chatsfield Boxed Set Vol.2. In the UK, it's on sale now. You can pick up The Secret In Room 823 as a stand alone title, or as part of The Chatsfield Boxed Set Vol.2.
For quickest delivery on all my titles, buy from Mills & Boon UK site, eHarlequin and Mills & Boon Aus as they appear there soonest.
Prefer Amazon? US | Canada | UK | India | Germany | Brazil | Spain | Italy | Japan | Australia 
or these other fine retailers have it as well:
Nook | Kobo | ARe | BooksaMillion | ChaptersIndigo
I'll be back on the weekend with a new #SampleSunday for The Ultimate Seduction. Now I'm off for a run and a workout. Gotta keep my writing muscles toned, doncha know.