I have not forgotten about you, #TeaserTuesday enthusiasts. Here is your third excerpt from Mastering Her Role, Book One in The Dani Collins Erotic Romance Collection.
Originally I said I'd do three snippets from Mastering Her Role, then three from Playing The Master, which is the second book in The Dani Collins Erotic Romance Collection. BUT, I recently realized I can't count. I'm a writer, not a mathematician, Jim.
So you can actually expect five (5!) excerpts from this story and at least four from Playing The Master.
I'm laughing at myself right now as this Teaser has turned into a huge blog post, partly because I just remembered to include some links to the other snippets and excerpts I've posted lately. Real quick round-up:
And if you missed the first two in this series you can read them here:
Please continue to scroll down after today's excerpt for information on several contests and giveaways. There's a new one for a loaded Kindle Paperwhitethat includes a ridiculous amount of print books (over 50!) Even the most voracious reader will be set for a year or more.
Now we are very much getting into NSFW territory with this excerpt. Graphic Language Ahead:
~ * ~
Her head dipped and he felt little shivers chase over her skin again.
"I—" She waved modestly at the table. "This is a celebration. I've been the top agent twelve months running. I received a bonus. A cruise."
"Well that's wonderful isn't it?" He opened his hand on the softness of her upper arm. Women's skin was always soft, but Arianne's compelled him to pet and stroke unceasingly. If only she would let him, if only—but he was supposed to be listening. Giving her the admiration she rightly deserved. "I'm not surprised but I'm very proud. Well done, beautiful." He touched his lips to her skin for the first time, a light press at her temple that made her breath stall. Heat surged through him.
"For two," she added after a moment of significant silence. She kept her chin tucked. "I leave in a week."
He used a gentle touch to tilt her face up to his. "Two?"
"It's a cruise for two. At first I thought I'd take a girlfriend, perhaps Ella from the office. But there would be politics and on the boat she'd be intent on cutting one of those sexual swathes you talked about. Essentially I'd be cruising alone. Then I considered trying something like that myself but aside from the fact I'm hopelessly ill-equipped, I'm built for relationships." She shrugged awkwardly. "It's just who I am. I'd rather invite a man to share the cruise with me. I even had someone in mind—"
"I beg your pardon?" His hand firmed involuntarily on her jaw.
"There is a man to whom I am attracted," she said, lashes lowered in uncertainty. "I would like to invite him on this cruise, but I can't. Not if I'm going to ruin everything by being some kind of sexual introvert."
"Who is he?" he demanded. He was jealous, he realized. Insane with it.
She pulled away and bent to blow out the candles. "Do I ask you the names of the women you pursue?"
There was only one. Arianne. She'd been in his thoughts for eleven months. Over a year, if he wanted to be honest, but he didn't want to be that honest. She might guess the rest and he dreaded that.
"The problem is, if this man shares my bed, he'll find out what a dud I am—"
"Stop talking about yourself like that."
"It's true! I don't know what I'm doing there. I don't even know why other people are so keen to test the limits of what can be done there. I don't want to be this ignorant, Jason! I want to know how to satisfy a man in bed."
"Fine. Invite me."
She snorted. "Right. How would that work? You'd bring me up to speed then release me into the world after the cruise? Then what? We continue our cozy dinners with that between us?"
"It could be the beginning of a relationship," he said through clenched teeth. "Did you think of that?" She could forget this other man to whom she was attracted.
"And when you found out what a dead fish I am, you'd be outta there and how in the world would I ever sit across a table from you again? No, I'd rather spend a week taking lessons from someone I'll never have to face again."
She didn't know who Dominic was. She couldn't. Either that or she knew everything and was punishing him. Thoroughly.
Deep down, he didn't care one way or another. There was an iniquitous part of him exploding with excitement thinking of her with Dominic. She'd test the hell out of him. It was beyond exciting to consider. His entire body coiled with anticipation.
At the same time, the velvet of an ocean-scented breeze swirled around him, but it wasn't warm enough to quell the icy tendrils of guilt wrapping around him.
"But I do need someone I can trust, and you trust him, right? I mean, you trusted him with Celine didn't you?"
"I indulged her desire for him. They had a history," he said reluctantly.
"So I could trust him, too. Otherwise I'll have to find someone else—"
"Are you truly going to be that stubborn about this? You'll put an ad in the classifieds or something unless I arrange this?"
"Well there is that guy at work who seems to know his way around the bedroom, but I don't really want—"
"Neither do I," he cut in, flaring his nostrils to take a deep, calming breath. "But I think you're being foolish. If this man you are so attracted to calls himself a man, he would find your natural innocence as charming as I do."
"I don't want to be innocent! I want to be passionate."
"You're highly passionate. You once lectured me for half an hour on recycling."
"That's not what I mean and you know it. Every time I think about sex, a little voice inside me says, 'but that's not me.' When a guy asks me on a date, I freeze up, terrified because he'll expect me to be something I'm not. I'm curious, but the internet is just words. It's not real. I want to feel what it's like, learn things I didn't know were possible. Orgasm, okay?"
"I can give you that." Frustration drove him to slip the leash on his control. He pulled her against him, letting her feel the hardness of his throbbing wood against her stomach. "How do you want it? A long, slow build up then a hard push over the edge? What do you want me to use? My dick or my tongue? Fingers? All of the above until you can't speak?"
"Jason." She sounded breathless. Her hands pressed against his chest in resistance but he held her close enough to feel her heart racing.
"Because that's what Dominic will do. Do you understand that? He'll run his tongue between your legs and ask you to suck his fingers and cock. He'll expect freedoms for every lascivious pleasure he can conjure. He'll fuck you. Often. As fast or slow or hard as your pussy can stand. Are you prepared for that?" The images blew his mind and tightened his grip on her arms.
"No," she breathed. "But that's the point, isn't it? I should be."
He could sense the contradiction in her, the opposition of her arms, straining for release, yet the faint scent of physical excitement rising off her skin. He suffered a similar incongruity in himself. He was drowning in such possessiveness he wanted to overcome her protests and seduce her right here and now.
Arianne wasn't with him, though. She was biting her lip, her sexual confidence balanced on a knife's edge as she waited for his decision.
The blade of guilt in his chest gave a few twists. If she needed to hear from a stranger that she was sexy as hell, he should arrange it. Hell, Dominic had enough control to bolster her without touching her, then point her in the direction she ought to be looking: right here.
Or was that a bullshit rationalization? He didn't let himself overthink it. It was only one encounter.
"If you insist," he growled. "You can meet him."
~ * ~
I think we know where this story is going...
Did you know that purchase of this collection counts as an entry in Dani's Masked Desires Contest? You could win one of these awesome masks or an autographed copy of my August Harlequin Presents The Ultimate Seduction.
Read the rules for the Dani Collins Masked Desires Contest (closes August 17th, 2014). Enter here:
Dani's Masked Desires Rafflecopter Entry Form
You can also enter for a chance to win one of three signed copies of The Ultimate Seduction through this Goodreads Giveaway. It closes this Friday, June 27th.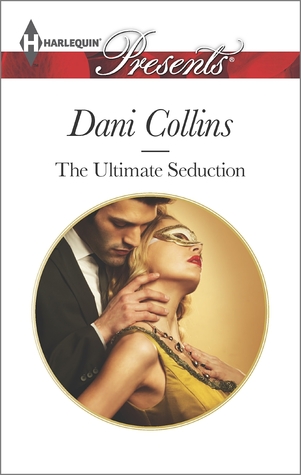 Enter to win
You'll always be included in a draw for a signed copy of my new release if you join my newsletter. I draw from my subscriber list right before the book comes out.
Looking for that Huge Giveaway I mentioned above? That's over at Lisa Perry's Blog. I'm giving away both An Heir To Bind Them and
The Ultimate Seduction, signed of course.
I'll have even more chances to win The Ultimate Seduction when I start my blog tour mid-July, so keep checking back for those opportunities.
Meanwhile, read the #Thursday13 from The Secret In Room 823. If you like it, it's available for preorder in North America as part of The Chatsfield Boxed Set Vol.2. In the UK, it's on sale now. You can pick up The Secret In Room 823 as a stand alone title, or as part of The Chatsfield Boxed Set Vol.2.
For quickest delivery on all my titles, buy from Mills & Boon UK site, eHarlequin and Mills & Boon Aus as they appear there soonest.
Prefer Amazon? US | Canada | UK | India | Germany | Brazil | Spain | Italy | Japan | Australia 
or these other fine retailers have it as well:
Nook | Kobo | ARe | BooksaMillion | ChaptersIndigo
Have I yammered on long enough? Anyone who makes it to the end of my blog posts deserves a gold star. If that's you, send me an email off my contact page telling me you want a gold star, include your snail address, and I will send you some of my coveted Dani Collins post-it notes along with heartfelt appreciation for your time and attention.
Please also check back for the #Thursday13, which will be more from The Secret In Room 823.