Welcome to my second #TeaserTuesday for the first book in my third release for August. Yeah, I'm hilarious, I know.
I thought I'd do three snippets from Mastering Her Role, then three from Playing The Master, which is the second book in The Dani Collins Erotic Romance Collection. They're not really a series, but if you prefer to read in order, you'll want to read this one first.
If you missed last week's excerpt, it was the opening pages where Arianne asks to meet Dominic. Here Jason reacts:
~ * ~
Jason pushed himself away from the table, from watching all that he'd carefully built come crashing down. When he reached the short stone wall surrounding Arianne's patio he turned to face West, to the dark border of hedges and the streetlights beyond, rather than looking at his own mansion and the window to his downfall.
Only when he felt the butt of concrete against his knee did he realize it was too late to say, "Who?" It came out anyway and he heard Arianne's scornful noise behind him. Funny, but he didn't appreciate her impudence this time.
"Don't play dumb," she said. "Celine told me—"
"What?" he demanded. His hands clenched into fists as he braced himself for the lash of Arianne's contempt. Surely she would express some. Maybe even worse.
Then it struck him, what she'd said.
"You want me to introduce you? Why? Do you even know who he is?" His gut knotted around the little dinner he'd eaten. He didn't want to explain. How could he? He barely understood it himself.
"Celine told me he helped her discover herself. Sexually." Her voice strained to pronounce the last word.
"When—?"
"I bumped into her at a salon a few weeks ago."
"What else did she say?"
"Would you quit yelling at me?"
"I apologize." He reined in his flare of temper. "I wasn't expecting this." He caught back cynical laughter at the understatement. No, he had begun to imagine something else entirely would come from this dinner. Attempting a calm tone, he forced himself to turn and face her. "Why would you like to meet him?"
She was still seated and kept her head down so she spoke into her lap. "I'm not exactly the most sensual person in the world. I thought he might help me with that."
Disbelief pressed against the back of his throat.
"Arianne," he scolded. "Look at yourself. The way you cook," rich and delicately spiced, "your home," plush in texture, with splashes of exciting color, "your hair..." She didn't know what to do with the thick, waving mass, she'd said once, but leave it to fall around her shoulders. He could think of a thousand things to do with the mink-colored tresses, all of them involving naked skin.
She shook her head. "Craig—"
He made an angry noise and took a step toward her before he reminded himself to remain in control. She had the capacity for passion, but it still startled her. "Your ex-husband was not the type of man to bring out that side of any woman."
"He lacked sophistication, true, but so do I. At least he had the nerve to explore new horizons." She buried the words in a quick sip from her wine glass.
"Are you calling the lower end of town the horizon? Because that's as far as the two of them got. They're currently cutting a sexual swath through the natives there. I hope that's not what you aspire to."
"Of course not! I just want to be...different."
"Different how?" She was positively seductive exactly as she was. When color rose in her cheeks like that and carnal promises grew in the curve of her pouted lips, he imagined exploring the finer points of erotic pleasure with her. Teaching...learning. Oh yes, she had it in her to expand his own horizons, but until tonight she'd quelled every hint of interest in doing so.
The way her marriage had crumbled was to blame and he couldn't rush the kind of healing she'd needed. He'd understood so he'd tried to be patient while she found her way back to feeling attractive. Now that she was here, he wanted her to explore her sexual boundaries with him.
Not Dominic.
Clasping his hands over the back of the chair he'd vacated, he said, "Why would you feel a need to be different?"
"Because no man wants a woman as stifled as I am."
"You're shy."
"Would you quit patronizing me?" She threw her napkin onto her plate and stood to stack dishes. "I'm so inhibited that just pressing my foot against yours made me feel..."
"What?" he prompted, excitement sweeping through him again at the remembered glory of her making advances for the first time.
"Like it's wrong. Like I'm a slut or something."
"Arianne." She had only hinted at this before with brief remarks about a strict upbringing by elderly parents. A confession once that she'd developed early and was teased mercilessly. An embarrassed retelling of the office-Romeo calling her a tease.
Until this moment he hadn't recognized the true height of the walls erected around her sexuality.
"Did you like it? The touch of my boot against your foot?" he asked, feeling tension coil in his center.
"I don't know! But I wanted to let it happen without—" She clunked down the plates she'd lifted and her gorgeously full breasts heaved. "I'm tired of being a freak."
"You're not a freak." He stepped behind her and placed his hands on her slumped shoulders, digging gentle thumbs into the ridges on either side of her spine. Months of carefully introducing innocuous touches had brought him this far. It was the only tension release she allowed him to offer and it never seemed to relax either of them no matter who gave or who received. Nevertheless, he took advantage of the liberty so he could reassure her. Touch her. Drink in the luscious feminine scents of cosmetics and unacknowledged arousal.
"You're still patronizing me," she said.
"I'm not and you're insulting me by saying so." Her hair tickled his knuckles. It was all he could do not to pull her back against him so he could ease the ache in his groin by pressing into the firm, lush curves of her bottom.
"I have hang ups," she murmured. "I can't even relax when you give me a harmless massage."
Because she sensed it wasn't harmless, he thought wryly.
"Feeling self-conscious about the way your body reacts to sexual stimulation does not make you a freak. And there are other ways to overcome it than what you're suggesting."
"Don't you dare offer a pity—" She knocked his hands away and turned on him. "—l-lay."
"Fuck," he provided. "It's called a pity fuck. And you're bent on pissing me off tonight, aren't you? Why would you accuse me of offering such a thing?"
"I'm sorry. That wasn't exactly what I meant, only that you've never thought about me like that so you must be just trying to be nice right now."
"Which would still amount to a pity fuck and aside from the fact that it's not in me to be that nice, if you would like the truth, I began thinking of you 'like that' the very day we met across this stone wall. You were wearing a yellow summer dress and I thought it would look better without the bra."
She swallowed and brought her arms up to hug herself, shock seeming to steal a layer of color from her skin. "Well, you can see how ignorant I am. I had no idea."
He wondered if he should mention that he could see her nipples hardening now beneath her silk blouse and lacy camisole as she plumped her breasts with her crossed arms. No, she was doing her withdrawal thing, turning away to collect more dirty dishes.
"And now that you do? Have an idea, I mean?" he asked, moving in front of her so she couldn't retreat to the house.
She put down the dishes with a clatter and another little sigh.
"I don't think these inhibitions of yours are so monumental, Arianne." He stroked one knuckle on her bare arm, up to the ruffled cap-sleeve of her blouse. "Let's talk about them. I'll be honest with you, you know that."
"And then you'd know what a neophyte I am! I don't want to embarrass myself in front of you like that. Our friendship would suffer. I value this you know." She nodded at the table in disarray with abandoned silver and the pepper mill knocked on its side. She set it upright again. "I can't risk losing your respect."
"Surely I deserve better than a We're Just Friends brush off?"
"That wasn't—you just won't understand, will you?" Her skin pimpled under his touch and he soothed away the bumps, felt the heat rising beneath her skin. His shy little sensuality artist. "Explain it to me. Help me understand because if you won't allow someone you know and trust to help you, then I can't fathom what's driving you."
~ * ~
You can pick this one up from HarlequinE as an eBook. No word yet on if or when it will come out in print.
By the by, purchase of this 2in1 counts as ten entries in my Masked Desires Contest! Check out the masks below. You'll also be entered for a signed print copy of The Ultimate Seduction.
Deadline to enter the contest is August 17th. Here's the link to the rules and the entry form:
Dani Collins Masked Desires Contest 
Dani's Masked Desires Rafflecopter Entry Form
If you like contests, you might also want to enter my Goodreads Giveaway. I have three signed copies of The Ultimate Seduction available. Enter here: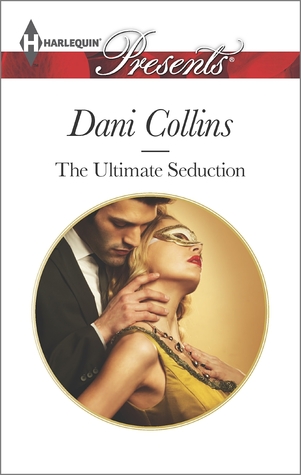 Enter to win
And yes, I'm still promoting my June book, An Heir To Bind Them. I have a couple more blog stops to add to the list this week:
An Heir To Bind Them is on shelves right now and the August ones are available for pre-order. Head out to your fave book store or purchase online here:
Or Amazon: US | Canada | UK | India | Germany | Brazil | Spain | Italy | Japan | Australia 
and these fine retailers have it as well:
Nook | Kobo | ARe | BooksaMillion | ChaptersIndigo
Whew! That's all for now. Look for a #Thursday13 later this week.