Welcome to a new series of #SampleSunday, this one for The Ultimate Seduction, my Harlequin Presents releasing August 1st.
I'm starting a bit early as I have several books releasing in August and want to give samples for all of them. You'll have six of these here then a special sneak peek at my Chatsfield short at the end of July.
I won't chat long today. I'm super close to finishing a book that's scheduled to come out March 2015, but the story is giving me fits. I've been dancing around 47,000 words, getting all the way to 49 then deleting a few things, sliding back to 47, rewriting a passage and getting back up to 48... It's like snakes and ladders! I'd like to have it finished last Thursday (ahem!) but I'll settle on this weekend.
So no backstory or previous links for my excerpt today. This is the opening, but I will give you some background. My editor contacted me last year with a very nifty offer to collaborate with two amazing Presents authors, Maya Blake and Victoria Parker. The concept was to give a 21st Century spin on an old-fashioned gentlemen's club. This is a place where the rich go to party, gamble, network, um, seduce virgins...
If you like to read in order, you'll want to pick up Maya's
The Ultimate Playboy in July and look for Victoria's The Ultimate Revenge in September.
Here we go:
~ * ~
Tiffany Davis pretended she wasn't affected by the hard stare her brother and father gave her when she entered her father's office. It wasn't easy to let people she loved pass judgment on whether she'd used sufficient concealer on her scars. Sometimes she wanted to throw the bottle of liquid beige into the trash and scream, There. This is what I look like now. Live with it.
But her brother had saved her life pulling her from the fiery car. He felt guilty enough for putting her in it. He still grieved for her groom, his best friend, and everything else Tiffany had lost. She didn't have to rub salt in his wounds.
Good girl, Tiff. Keep biting back what you really want to say. It's not like that got you into these skin grafts.
She came to a halt and sighed, thinking it was probably time for another visit to the head doctor if she was cooking up that sort of inner dialogue, but her harsh exhale caused both men to tense. Which made her want to rail all the louder.
Being angry all the time was a character shift for her. Even she had trouble dealing with it so she shouldn't blame them for reacting like this, but it still fed her irritation.
"Yes?" She clicked her teeth into a tight smile, attempting to hold onto her slipping patience.
"You tell us. What's this?" Christian kept his arms folded as he nodded at the large box sitting open on their father's desk. The lid wore an international courier's logo and the contents appeared to be a taxidermist's attempt to marry a raven to a peacock.
"The feather boa you asked for last Christmas?" Lame joke, sure, but neither man so much as blinked. They only stared like they were prying her open.
"Be serious, Tiff." Christian said. "Why is the mask for you? Did you request to go in my place?"
A claustrophobic band tightened around her insides. A year in a mask had left her vowing to never feel such a thing on her face again. "I don't know what you're talking about."
The frost in her voice made both men's mouths purse. Why did all of this have to be so hard? The touchiness between her and her family was palpable every minute of every day. If she was short, they were defensive. If she was the least bit vulnerable, they became so over protective she couldn't breathe.
They'd nearly lost her. She got that they loved her and were still worried about her. They wouldn't relax until she got back to normal, but she would never be normal again. It made the situation impossible.
"Where is it you think I want to go?" she asked in as steady a tone as she could manage.
"QVirtus," her father said, like that one word sufficed as explanation.
She shook her head and shrugged, still lost. Did they realize she was in the middle of an exchange worth five hundred million dollars? She didn't have much, but she did have a job now. Seeing as it involved running a multi-billion dollar company, she tried to do it well.
"Ryzard Vrbancic," Christian provided. "We put in a request to meet him."
Pieces fell together. QVirtus was that men's club Paulie used to talk about. "You want to meet a puppet leader at one of those rave things? Why? The man's a despot."
"Bregnovia is asking for recognition at the UN. They're a democracy now."
She snorted in disbelief. "The whole world is ignoring the fact he stole the last dictator's money and bought himself a presidency? Okay."
"They're recovering from civil war. They need the sort of infrastructure Davis and Holbrook can provide."
"I'm sure they do. Why go the cloak and dagger route? Call him up and pitch our services."
"It's not that simple. Our country hasn't recognized his yet so we can't talk to him openly, but we want to be the first number in his Rolodex when recognition happens."
She rolled her eyes. Politics were so fun. "So you've set up this clandestine meeting—"
"It's not confirmed. That happens when you get there."
"That would be the broad 'you', right? Like the universal 'they'?"
Christian's mouth tightened. He lifted out the feathery contents of the box. It was actually quite beautiful. A piece of art. The blend of blue black and turquoise gold feathers covered the upper eyes and forehead and—significantly—splayed down the left side in an eerily familiar pattern. Ribbons tailed off either side.
It was like looking in the mirror, seeing that reflection of her scar. A slithery feeling inside her torso made her heart speed up. She shook her head. She wasn't going anywhere, especially in public, with or without a crazy disguise.
"You understand how QVirtus works?" her brother prodded. "This mask is your ticket in."
"Not mine."
"Yeah, Tiff, it is." He turned it around so she could see where her name was inscribed on the underside, along with Isla de Margarita, Venezuela. "See? None of Paulie's old masks will work."
His terse tone and shooting glance toward their father made it clear they'd spent some time pondering alternate solutions. Both men showed signs of deep frustration, a level of emotion usually reserved for when approval ratings were low. To see them so bent out of shape activated her don't-make-more-waves genes.
Your father is under a lot of pressure, dear. Do as he asks for now.
No, she reminded herself. She was living her life, not waiting for it to make everyone else's list of priorities. Still, she'd been raised to have civilized conversations, not be outright defiant. "I would think that taking off the mask to show your name defeats the purpose."
"There's a chip embedded. They know which masks belong to which person and as you can see, they only fit one face."
"They obviously know a lot about me. That's creepy. Doesn't it seem weird they would know how to cover my scars?"
"QVirtus has an exceptional history of discretion and security," her father said, defending it with a kind of pompous grumpiness that surprised her. "Whatever they know about us, I'm sure it's kept very well protected."
A remarkably naïve comment from a man who'd been in politics and business long enough to mistrust everyone and everything. Heck, he'd dragged her in here because he thought she'd undermined him with his brotherhood of secret handshakes, hadn't he?
"Dad, if you're a member—"
"I'm not." He smoothed his tie, one of his tells when his ego was dented.
"Christian?"
"No."
She was quite smart, had always had better marks than her brother who fudged his way through just about everything, but she was missing something. "Who then?"
"Paulie belonged. Paul Sr. was a member and once Paulie inherited, he had the means to pay the fee," her father said in a level tone.
Of course. Therein lay her father's envy and reverence. It must have eaten him alive that his best friend and rival for her mother's affections had possessed something he hadn't.
"When you were still in hospital, I applied on your behalf, hoping to go as your proxy," Christian explained. "I didn't hear back until today." Glancing at their father, he added, "It is kind of creepy they know Tiff has finally recovered and taken over the reins of Davis and Holbrook."
"Everyone's talking about it. It's hardly a secret," her father dismissed with a fresh heaping of disapproval.
Tiffany bit back a sigh. She would not apologize for grappling her way into running the company now that she was well enough. What else would she do moving forward? Trophy wife and having a family was out of the question with this face.
Still, it was so unladylike to work, her mother reminded at every opportunity.
"I don't understand why they've accepted her. It's a men's club," her father muttered.
She eyed the mask, recalling the sorts of stories Paulie used to come home with after attending one of these QVirtus things. "It's a booze fueled sex orgy, isn't it?"
"It's a networking event," her father blustered.
Christian offered one of his off-side grins. "It's a chance for the elite to let their hair down," he clarified. "But a lot of deals are closed over martinis and a handshake. It's the country club on a grander scale."
Right. She knew how that worked. Wives and daughters stood around in heels and pearls planning the Fourth of July picnic while husbands and fathers colluded to keep their money amongst themselves. Her engagement to Paulie Jr. had been negotiated between the seventh and ninth holes of the top green, her wedding staged on the balcony by their mothers, her cake designed by the renowned chef, and all of it exploded into flames against the wrought iron exit gate.
"This is all very interesting." It wasn't. Not at all. "But I'm in the middle of something. You'll have to sort this out yourselves."
"Tiffany."
Her father's stern tone was the one that made any good daughter spin, take a stance of dutifully planted feet, knees locked, hands knotted at her sides. She caught her tongue firmly between her teeth. "Yes?"
"Our friends in Congress are hoping for good relations with Bregnovia. I need those friends."
Because his hat was in the ring for the next election. Why was that always the only thing that mattered?
"I don't know what you expect me to do. Pitch our services while wearing a showgirl costume? Who would take that seriously? I can't go into a meeting without it, though. No one likes face to face interactions with this." She pointed at where her ear had been reconstructed and a cheekbone implant inserted.
Her father flinched and looked away, not denying that she was hard to look at. That hurt more than the months of screaming burn injuries.
"Maybe I could be your date," Christian said. "I don't know if members are allowed to bring an escort, but..."
"Bring my brother to the prom?" That certainly reinforced how far down the eligibility ladder she'd fallen. Her hands stayed curled at her sides, but mentally she cupped them around her tiny, shrunken heart, protecting it. Love yourself, Tiff. No one else will.
"Get me in to the club and you won't have to leave your room until it's over," Chris said.
Hide the disfigured beast.
She had to close her eyes against her father's intense stare, the one that willed her to comply.
You weren't going to let yourself be a pawn anymore, she reminded herself.
"How long is this thing?" she heard herself ask, because what kind of family would she have, if not this one? Her friends had deserted her and dating was completely off the table. Her life would be very dark and lonely if she alienated her parents and brother.
"We arrive at sunset on Friday night and everyone is gone by Sunday evening. I'll make the travel arrangements," Christian said with quick relief.
"I wear this thing in and out. That's the deal, because I won't do this if I'm going to be stared at." Listen to her, talking so tough. She was actually scared to her toenails. What would people say if they saw her? She couldn't let it happen.
"As far as I know, everyone wears masks the whole time," Chris said, practically dancing, he was so elated.
"I'll be in my office," she muttered. Searching for my spine.
~ * ~
Want to enter to win a free copy? I've got several contests on the go right now. First, there's three up for grabs on the Goodreads Giveaway running until June 27th: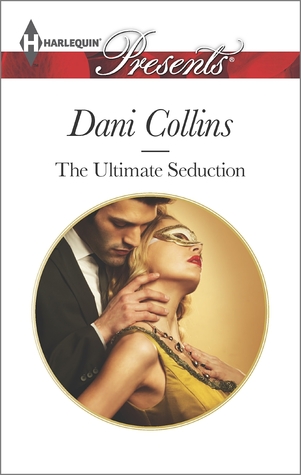 Enter to win
Next, if you join my newsletter list, you'll always be entered for a signed copy of my new release because I always draw from my subscriber list before I send a new one out.
BUT if you join through Dani's Masked Desires Contest you'll also be entered for one of these awesome masks and will double your chances for an autographed copy of the book.
Read the rules for the Dani Collins Masked Desires Contest (closes August 17th, 2014) then enter here:
Dani's Masked Desires Rafflecopter Entry Form
I'll have a few more blog tour stops this week for An Heir To Bind Them. And if you missed them, you can catch up on the #SampleSunday for An Heir To Bind Them here. That post has links to all six of them.
I've also started a #TeaserTuesday for my erotic romances. Watch for three and three on those (sounds kinky, doesn't it?) That collection launches August 4th and you can preorder on Amazon right now if you like the teaser.
For quickest delivery on all my titles, buy from Mills & Boon UK site, eHarlequin and Mills & Boon Aus as they appear there soonest.
Prefer Amazon? US | Canada | UK | India | Germany | Brazil | Spain | Italy | Japan | Australia 
or these other fine retailers have it as well:
Nook | Kobo | ARe | BooksaMillion | ChaptersIndigo
It's Saturday evening here, Sunday morning somewhere, I'm sure. Happy Father's Day and check back for #TeaserTuesday :)