Happy Saturday. I have plans today so I'm prepping this on Friday, hitting post on Saturday morning, then goofing off with my husband. First stop: that coffee place that serves Canadianos - like an Americano, but they use coffee instead of hot water.
If you're a regular visitor, you know I started a new #SampleSunday series last week for The Ultimate Seduction, my Harlequin Presents releasing August 1st.
I'll post the link to the first excerpt in a minute, but I wanted to share this review from Romantic Times, which I loved. Not because she gave the book 4.5 stars (which is awesome!) but because I dig anything with an umlaut especially if it's used on a twenty-five dollar word like uberopulence.
Now, I may have mentioned that I have a lot of books out this summer. O_o <<--not an umlaut. Me.
So I have quite a few samples and teasers and excerpts and snippets going on. Give me another word meaning to offer a portion of a book for free (Scene-Cap?) and I will use it to promote these books. Here's what I've done so far:
Now, if you read last week's #SampleSunday for The Ultimate Seduction, you may recall that Tiffany had received an unusual invitation by way of a masquerade mask to attend an upcoming QVirtus event. Given her scars, she didn't want to go, but her father and brother insisted.
Here Ryzard arrives at the event:
~ * ~
Ryzard Vrbancic abided by few rules beyond his own, but he left his newly purchased catamaran as the shadow of its mast stretched across the other boats in the Venezuelan marina. If he didn't climb the stairs before the red sky had inked purple, he would be locked out of the QVirtus quarterly.
Story of my life, he thought, but hoped that soon he'd be as welcome worldwide as the famous black credit card.
Security was its usual discreet step through a well-camouflaged metal detector that also read the chip in his mask. One of the red-gowned staff lifted her head from her tablet as he arrived and smiled. "We're pleased to see you again, Raptor. May I escort you to your room?"
She was a pretty thing, but the petite q's were off-limits, which was a pity. He hadn't had time to find himself a lover for weeks. The last had complained he spent more time working than with her, which was apparent from her spa and shopping bills. They were as high as his sexual frustration.
His situation should improve now, but he'd have to be patient a little longer. Like the music that set a vacation tone, the petite q's provided atmosphere. They could stroke an ego, dangle off an arm, flirt and indulge almost any reasonable request, but if they wanted to keep their job, they stayed out of the members' beds. Being smart and career minded along with attractive and engaging, the petite q's tended to side with keeping their jobs.
Such a pity.
His current escort set up his thumbprint for the door then stepped inside his suite for his briefing. "You have a meeting request from Steel Butterfly. Shall I confirm?"
"A woman?" he asked.
"I don't have the gender of our clients, sir." And if she did know, she wouldn't say.
"No other requests?" He was hoping for a signal from international bodies that his petition to the UN was receiving a nod.
"Not at this time. Did you have any?"
Damn. He'd come here knowing he had a meeting request, hoping it would be a tip of the hand on his situation. Now he was under lockdown and liable to be taking a sales pitch of some kind.
"Not at present. I'll accept an introduction on that one, nothing longer." He nodded at her tablet.
"The time and location will be transmitted to your smartwatch. Please let us know if I can arrange anything else to ensure your satisfaction while you're with us."
He followed her out, confident that everything he'd preordered was in the suite. Zeus was exceptionally good at what he did. Ryzard had never had an issue of any kind while at QVirtus, which made the exorbitant membership fee and elaborate travel and security arrangements worth the trouble.
Entering the pub-style reception lounge, he saw roughly thirty people, mostly men in tuxedos and masks. They stood with a handful of gorgeous petite q's wearing the customary red designer gowns.
He accepted the house drink for this session, rum over ice with a squeeze of lime and a sugared rim, then glanced at his watch. At his four o'clock, a collection of dots informed him the small conclave of men to his right included Steel Butterfly.
He had no idea where Zeus came up with these ridiculous nicknames, but he supposed Raptor was apt for him, coming from the Latin meaning to seize or take by force. The bones of several dinosaurs in that category had been uncovered in his homeland of Bregnovia, too.
Eyeing the group, he wondered which one was his contact. One accepted a drink from a petit q and handed her his watch. It didn't matter, he decided. He wasn't interested in beginning a conversation in public that he was scheduled to have in private tomorrow. He waited until he was out of range in the gambling hall to activate his identity on his own watch. This resulted in an immediate invitation to join the blackjack table.
He sat so he could read the screen mounted near the ceiling in the corner. It subtly manifested and dissolved with blurbs on presentations and entertainment to be held over the course of the QVirtus Quarterly. Tastemakers, trendsetters and thought leaders were flown in to provide rich, powerful, political forces such as himself with the absolute cutting-edge information and samples of global economics and technology. Meanwhile, at tables such as this one, he would pick up the other side of the coin: gossip about a royal's addiction, a cover-up of a coup attempt on a head of state, a lie that would be accepted as truth to stem international panic.
He could only imagine what was said about him, but he didn't let himself dwell on what was likely disapproval and distrust. His people were free, his country independent. That was the important thing.
Still, thoughts of what it had cost him crept in, threatening to inject disappointment and guilt into an otherwise pleasant if staid evening. He folded his hand, left the table and lifted a rum off a passing waiter's tray as he moved outside in search of entertainment.
~ * ~
Insider note: I deliberately included the watch being handed off as a similar scene happens in Maya Blake's prequel to my story, The Ultimate Playboy.
Want to enter for a chance to win a signed copy of The Ultimate Seduction? I've got several contests on the go right now. The Goodreads Giveaway closes this Friday, June 27th, so enter now if you want in.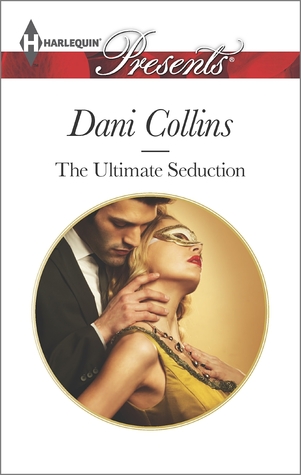 Enter to win
Also, if you join my newsletter list, you'll always be entered for a signed copy of my new release because I draw from my subscriber list before each print book releases.
BUT if you join through Dani's Masked Desires Contest you'll also be entered for one of these awesome masks and will double your chances for an autographed copy of the book.
Read the rules for the Dani Collins Masked Desires Contest (closes August 17th, 2014) then enter here:
Dani's Masked Desires Rafflecopter Entry Form
I'll have even more chances to win giveaways of this title when I start my blog tour mid-July. (Note to self: write blog posts.)
Meanwhile, The Secret In Room 823 is available for preorder in North America as part of The Chatsfield Boxed Set Vol.2. In the UK, it's on sale now. You can pick up The Secret In Room 823 as a stand alone title, or as part of The Chatsfield Boxed Set Vol.2.
For quickest delivery on all my titles, buy from Mills & Boon UK site, eHarlequin and Mills & Boon Aus as they appear there soonest.
Prefer Amazon? US | Canada | UK | India | Germany | Brazil | Spain | Italy | Japan | Australia 
or these other fine retailers have it as well:
Nook | Kobo | ARe | BooksaMillion | ChaptersIndigo
Hopefully I'll have some photos on Saturday to post from my little daytrip with MrC. Watch my Instagram/Twitter/Facebook for those and check back for my next #TeaserTuesday. Have a great weekend!