Remember when I said I'd be back on the weekend with the blurbs for my August books? Plus the link for my new Goodreads giveaway for The Ultimate Seduction? Ta Da! Here I am.
And since I have this cool graphic for all my summer books that I made all by myself, and it includes the cover for An Heir To Bind Them, I'll start with that one and work left to right.
An Heir To Bind Them - June 1, 2014
Off the boss's payroll…and into his bed
Jaya. Her name reverberates around Theo Makricosta's head in time to the whirring blades of his private helicopter. He must find her; only Jaya can help with the care of his infant niece and nephew…. It's not because he hasn't stopped thinking about the single night of mind-blowing passion he shared with the exotic beauty.
Jaya Powers couldn't refuse her gorgeous millionaire Greek boss when she worked for him, and she can't refuse him now! Only this time she has a secret. Their night together had consequences that will change Theo's perfectly ordered existence forever!
Want to read more? Skip back on my blogs for a #SampleSunday or read the opening chapter here:
The Ultimate Seduction - August 1, 2014
"I'm about to make you an offer you can't refuse."
Tiffany Davis takes her first delicious step into the exclusive masquerade ball hosted by the secretive Q Virtus gentleman's club. Here, behind the mask, Tiffany can hide her scars and reveal her true self—a powerful businesswoman with an offer for the president of Bregnovia, Ryzard Vrbancic.
Astounded by her audacity, only the fire in Tiffany's eyes makes Ryzard look twice. He has no interest in her business deal, but the promise of a woman who can match his ruthless determination makes him eager to seduce from her the one thing she's not offering….
Want to enter for a chance to win it? Here's the Goodreads link: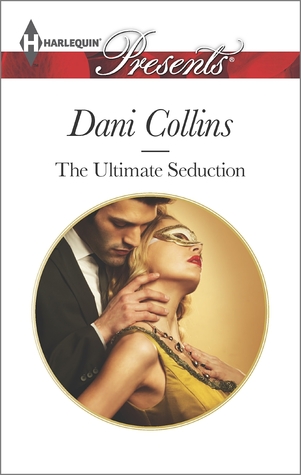 Enter to win
The Dani Collins Erotic Romance Collection - August 4, 2014
(Two full length novels)
Mastering Her Role (Book One)
Arianne has it bad for her friend and neighbour, Jason. Unfortunately, rumour has it that Jason has a kinky side, and Arianne's inner freak is still hiding in the closet. So Arianne asks Jason to introduce her to his friend Dominic—a sexually dominant instructor in the ways of pleasure. And so Arianne begins her lessons of sexuality, lust, and being thoroughly and deliciously ravished. But behind his mask, Dominic seems awfully familiar….
Playing the Master (Book Two)
In a week, timid Ann Parker will belong to the coldly handsome Porter Navarro—a marriage arranged by her vicious stepfather. But when she's secretly made over and presented to Porter as "Violet," she is initiated into his world of dark, exquisite delights. One where he is master. But it's only as Violet that Ann tastes true freedom. And her liberation will cost not only her sensual teacher, but the man she's grown to love….
I'll be honest. With this being digital only, I'm not sure how I'm going to do giveaways. I think I can gift the ePub file once I receive it. Stay tuned...
The Secret In Room 823 (A Chatsfield Short Story) - August 1, 2014
Step behind the hotel room doors of The Chatsfield, London…
One night a month is all conservative Lady Hamilton-Smyth gets to release her inner sex goddess. With sinfully hot Hayes – real name unknown! – the real Gwen is wicked! With a suitcase full of naughty toys, she welcomes the freedom of being bound by Hayes.
But when the case goes missing in The Chatsfield London, her reputation is at stake – especially as the case contains her dirtiest little secret yet. There's only one man who can help her. But will revealing their identities ruin the fantasy…or take them to new heights of pleasure?
Look for this one in Volume 2 of the Chatsfield Short Stories Boxed Sets.
And remember, if you like to win free books, you should join my newsletter list. I always draw for a free copy of my new release from my subscribers. If you join through Dani's Masked Desires Contest you'll also be entered for the masks and will double your chances for an autographed copy of The Ultimate Seduction.
Deadline is August 17th. Here's the link to the rules and the entry form:
Dani Collins Masked Desires Contest 
Dani's Masked Desires Rafflecopter Entry Form
I'm also including giveaways on my blog tour posts. Several have closed, but check in with the later ones.
Ready to buy some of my books? An Heir To Bind Them is on shelves right now and the rest are available for pre-order. Head out to your fave book store or purchase online here:
Or Amazon: US | Canada | UK | India | Germany | Brazil | Spain | Italy | Japan | Australia 
and these fine retailers have it as well:
Nook | Kobo | ARe | BooksaMillion | ChaptersIndigo
Have a great weekend and look for a #TeaserTuesday on... You know.